Commercial Loan Process
We will contact you with regular loan updates.
During business hours, you will always talk to a real person, not a machine. 
We will call you before you call us!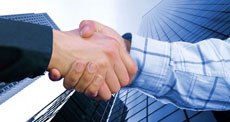 Our Commercial Loan Specialists are here to assist you in making your loan application a smooth four-step process:  
Step One: Pre-Approval (Qualify)
After an initial contact you will be provided with a brief list of items we'll need in order to issue a loan pre-approval. In your pre-approval you can expect a quote for rates, terms, costs, valuation estimate, expected time frames and instructions on how to proceed to step two.  Here is a list of items we typically need to see for your quote:
Current Rent Roll
Property Operating Statements for last 3 Years
Color Photos (5-8 Interior/Exterior)
Personal Financial Statement
Credit Report 
 
Step Two: Registration and Engagement (Commit)
Registration is the point in process when we submit a complete proposal package to our underwriters for a final check on our file. Upon underwriter's satisfactory review of the loan file, we commit third-party funds and any applicable fees in order to engage an appraiser and inspector.
Step Three: Processing (Verify)
After third-party reports have been ordered, our friendly loan assistants will request some additional items of verification. This list will usually include personal tax returns, entity documentation, funds verification, etc. but may vary depending on your specific program. *Note: Speak with your loan officer about any questions regarding items that will be used in verification or qualification of the loan. E.g. MFG Access Program (a no PDTI program) requires personal tax statements to verify borrower has filed taxes not for qualification purposes.
Step Four: Closing (Finalize)
Once third-party reports are completed and the verification process satisfied, a final loan approval will be issued. Once approval is signed and returned, with any prior-to-closing conditions satisfied, our underwriters draw loan documents. Our assistants ensure a coordinated and timely closing by working closely with your title and escrow agent. *Note: The most common prior-to-closing requirements are in regard to minor repairs that may be necessary due to deferred maintenance issues. These issues are usually addressed prior to final approval due to inspection or appraisal. E.g. Staircase repair because it is not conforming to code or is considered a safety issue. 
Total time from start to loan funding is approximately 40-45 days for loans under $3 million, 60 days for loans over $3 million.
Just a phone call to one of our friendly commercial loan specialists will get you started! 866-811-9515